HYDRA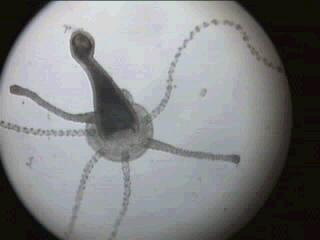 (Cnidarian)
Body Structure

Digestion

Reproduction

Nervous System and Oxygen Transport

Single Opening – mouth
Both sexual and asexual.

.

Lacks brain and spinal cord

Shape:
cylindrical
Food enters the gastrovascular cavity.
Asexually by budding
Mesoglea contains nerve cells to distribute messages throughout the body.
Cell Layer
: (2)
Endoderm
- inner layer
Ectoderm:
outer layer
Mesoglea:
lies between the two layers.
Digestion begins with the release of specialized enzymes.
Phagocytosis:
the process by which food particles are ingested by endoderm cells.
Sexually- Sexual organs are produced, Gonads: testes and ovaries.
Fertilization occurs when sperm swims to ovaries of another hydra.
Zygote
develops attached to the wall of the parent and forms a gastrula that then drops from the parent .
Tentacles are another form of sensory organs.
Basal disk
: Means for attaching to surfaces.
Food is distributed throughout the body.
Hydra emerges from its protective coat in the spring.
Lacks a special transport system.
Diffusion
is the process by which oxygen moves in, and carbon dioxide moves out.
Tentacles :
means for trapping food organisms.
Food is excreted through the mouth .

Diffusion is also the hydra's means for intercellular circulation.
Movement
Specialized nerve cells located near the mesoglea control the hydra's movement.
The basal disk also helps in movement which releases gas bubbles, allowing the hydra to float upside down to the surface.
The hydra can also move by doing summersaults. The tentacles and mouth bend down while the basal disk pulls free.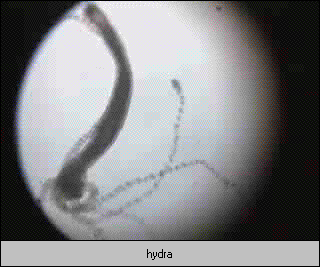 double click to play

­
HYDRA REARING
Store in fresh water source.
Keep temperature between 18 and 23 degrees.
Exclude light .
Keep a steady food supply.
Feeding
The hydra can be fed with brine shrimp larvae or Daphnia.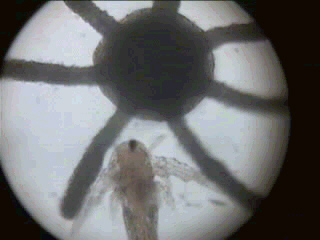 ­
brine shrimp
Tentacles have a stinging device to immobilize large prey.
Prepared Slides album
Hydra (wet mount)
40x
100x
400x
Hydra (longitudinal section)
100x
400x
Hydra (cross sectional)
400x
Hydra (nematocysts)
400x
Links